Tomoyo Ichijouji's Voice-Acting Resume
Since Jan 2010!
4th DEMO REEL MAR 2016
3rd DEMO REEL JUN 2010


2nd DEMO REEL FEB 2010




1st DEMO REEL JAN 2010



CONTACT ME:
tomoyoichijouji AT hotmail DOT com



Return to VAA Profile





Things I've mixed!


- Spirited Away fandub clip "I'm See-Through!!"
- Utena School Project Presentation (yeah seriously for school lol)
- For pure lolz: 1st Blooper Reel, 2nd & 3rd Blooper Reel
- Rozen Chronicles Promo Videos
- Flamzeron's Tales of Eternia fandub clips
- Star Driver: Radiant Takuto trailer fandub
- No Rest for the Wicked test runs
- Star Driver fandub clips
- No Rest for the Wicked Chapter 1-3
My First Music Compositions!
For updates on my current productions:

VAA Production Blog



Also find me at: [LiveJournal] [WordPress] [DeviantArt] [Fanfiction.net] [Cosplay.com] [ACParadise] [Newgrounds] [Youtube (main)] [Youtube (misc)] [Vimeo] [Facebook]



Return to VAA Profile



Note: Icons are shown to indicate it is a significant role, or at least a role where the character is important enough to have a name. Below are various notations you'll find and their meanings:



Since Narrators are major roles but usually do not have a visual, they have their own icon =P And also cause I seem to get cast in that kind of role with some frequency...


Also, if it says [was scouted!] by it, then it means that I was approached for the role and asked to play it instead of finding the project and sending in auditions for the character personally.


Similarly, if it says [self-cast], that means I chose the role to play for myself (I'm including them in here so you can eventually easily reference the voice I did for them when the project is finished).


And if beside the name it says "as active understudy", that means that while I was not initially cast for the role, I was called upon to take it when the original cast member was unable to play the role. Thus, the roles in the Understudy section are those I was cast as an understudy but as of now have not been called on as a replacement.


Ones that say [from previous role] mean that it was a role I had done earlier that is being reprised for a second project.


Ones that say [unlisted character!] mean that while I technically auditioned for the project, the particular character I was cast as was not listed in the audition and as such I didn't directly audition for.



While there is a separate section for officially canceled projects, there are several projects for which I have not heard anything from the producer for a long time, so for those that I've basically concluded have died without notice, I put a strike over the status remark. I do it like that so I can revoke said judgment anytime; this is just what I know of the project thus far. For space purposes, I've created a separate page for the projects that have remained in this status for a very long time.



If it has a

✨ on either side of the parentheses, it means that I have been/will be paid or otherwise compensated for the role (e.g. with money or original artwork).



*CAST AS*


Farah
(Ryusuke's Tales of the World: Radiant Mythology 3 Mystic Artes Exhibition) [was scouted!]
[WATCH CLIP]




Sailor Jupiter
(Sakasa Jinei's Sailor Moon Crystal fandub clip "Let's attack all together!") [was scouted!]
[WATCH CLIP]



Janet
(Tinker_Jet's Lifers animatic teaser)
{deviantart gallery}


[Status: Lines sent; in production]






Ivy


✨

(

Aphmau

's

Love~Love Paradise MyStreet

machinima series) [

previous role]

✨




{

Youtube channel

}




[Status: Secret! Under NDA]




[

WATCH EPISODE 3]
[WATCH EPISODE 4]
[WATCH EPISODE 23]



Citadel Dispatcher


✨

(Arthur Lee's WASTED online game) [was scouted!]

✨


[PLAY GAME]




Nimo
(Foolish Mortals' Nimo's Butterflies visual novel demo)
[WATCH DEMO VIDEO]





Daisy, Child
(csgmotions' A Day in the Life of Ellie animation)


[Status: Lines sent; in production]





Ivy


✨

(Aphmau's Minecraft Diaries machinima series) [previous role]

✨


{Youtube channel}
[WATCH S2 EPISODE 83]
[WATCH S2 EPISODE 91]
[WATCH S2 EPISODE 99]



Ivy


✨

(Aphmau's MyStreet Phoenix Drop High machinima series)

✨


{Youtube channel}


[Status: Secret! Under NDA]


[WATCH EPISODE 1]
[WATCH EPISODE 3]
[WATCH EPISODE 4]
[WATCH EPISODE 16]
[WATCH EPISODE 21]




Maria


✨

(Novella Gaming's Rite of Passing visual novel

)

✨


{Production website}


[Status: Secret! Under NDA]





Bystander #1, Bystander #3


✨

(Matthew_PLC's Red mobile game)

✨


{Facebook page} {Twitter page} {Youtube channel}


[Status: Lines sent; in production]





Xiaolian
(Jasmine Carbonell's Phoenix Wings Trilogy audiobook series) [was scouted!]
{Tumblr page} {iTunes page}


[Status: Lines sent for ep16; awaiting script for future lines]




[

HEAR EPISODE

]





Maribell
(TheMillz's Stabika 4: Retribution original video game)


[

PLAY GAME

]









Pukamon, Gomamon, Ikkakumon, Zudomon


(

Ed Prins-Stairs

's Digimon Adventure: Gomamon Evolutions fandub)


[WATCH DEMO VIDEO

]






Destroyer White


✨

(TheCookingDojo's Dojo Destroyers original animation) [was scouted!]

✨


{Youtube channel}


[Status: Lines sent; awaiting script for next episode]


[WATCH EPISODE 3]



Cutie Honey
✨
(
Dataman
's Erza Scarlet vs. Cutie Honey fan animation)
✨
{
deviantart gallery
}
[WATCH VIDEO]

Emma
✨ (
hugeowl
's Madness of Little Emma video game) ✨
{
Production page
} {Steam page} {
Official website
} {
Production twitter
}
[
WATCH INTRO
]
Rain, Zitara
[Zitara was scouted]
✨
(TheCookingDojo's untitled Fire Emblem fan animated series
)
✨
[Status: awaiting script]

Fumiko
(Aoba's Tamako Love Story movie fandub) [was scouted!]
[WATCH FULL MOVIE]



Elida
(
Samuraiflame
's Auburn Sunset visual novel)
[Status: Lines sent; in production]
[WATCH CAST VIDEO]


Trucy Wright
(Ryusuke's Phoenix Wright Dual Destinies: Turnabout to Tomorrow fandub) [was scouted!]


[Status: Lines sent; in production]


[WATCH PART 1]
[WATCH PART 2]




Xue Yun Pei


✨

(waterlily's Water Lily visual novel)

✨


{VAA Auditions} {Production tumblr}


[Status: awaiting script]







Yura Anders, Cammy Iyuka


✨

(Touchten Games's Target Acquired mobile game) [was scouted!]

✨


{Kickstarter page} {Official website} {Facebook page}
[WATCH TEASER TRAILER]
[PLAY GAME @ GOOGLE PLAY]
[PLAY GAME @ iTunes]




Pun Shlien
(Box

's Bravo! Encore video game)


{Production tumblr}


[Status: Lines sent; in production]






Naomi


✨

(Lythimus's 7 Inch Kara motion comic)

✨




[Status: Lines sent; in production]





Rarity
(
Ed Prins-Stairs
's "Little Sip" animated short) [was scouted!]
[WATCH ANIMATION]


Boa Hancock
(Ryusuke's J-STARS VICTORY VS exhibition clip fandub) [was scouted!]
[WATCH VIDEO]




Sailor Juno
(PrinceEndymion88's Sailor Moon Another Story II - Perfect Edition fangame)
{deviantart gallery} {Official website}


[Status: awaiting script? not sure if more lines are needed]






Lil' Fluttershy
(Ed Prins-Stairs's "Fluttershy Origins" comic dub) [was scouted!]


[

WATCH COMICDUB

]






Baby Chuck E., Baby Jasper
(atoons' CEC Babies 2D animated short "Fall Fright!")
[Status: Lines sent; in production]
Princess Eva


✨

(Biznet Networks' Adorable Clarissa animated series)

✨
[Status: Secret! Under NDA]

Rarity
(Ed Prins-Stairs's "How Babies are Made" comicdub) [was scouted!]
[WATCH COMICDUB]

Rarity
(Ed Prins-Stairs's "What Would You Do for a Klondike Bar?" comicdub) [was scouted!]
[WATCH COMICDUB]
Tell, Aya


✨

(S. A. Welland's Tell a Demon original visual novel) [was scouted!]

✨


{Production website} {Production tumblr} {Production twitter} {deviantart gallery}
[Status: Lines sent; in production]


Kreita Henik
,
Ranan
(active understudy for Ranan)
(
thestringsofsilver
's Nova: Synthesis Creaturum original visual novel)
{
Production non-VAA thread
}
{
Production tumblr
} {
Facebook page
}
[Status: More script received; updating on a regular basis]
[WATCH TRAILER]
Ms. Julia Anderson
(Tomoyo Ichijouji's Groups of Two original short visual novel) [self-cast]
{Production blog} {Production non-VAA thread} {Youtube intro} {Production release thread}
[PLAY VISUAL NOVEL]



Ginoshi

,

Grape

,

Mom
(A-Log's Tsunami Suzuki and the Scarlet Steels animated series pilot)
[WATCH PILOT @ Youtube]
[WATCH PILOT @ Newgrounds]




Narrator, Kevin, Ms. Bresbarns, Children extras
(dueyftw's "Pet Croc" comic animation) [was scouted!]
{Source material}
[Status: Lines sent; in production]





Rosemary Deid, Aya Gavial
(S. A. Welland's Asher original visual novel)
{Production website} {Production tumblr} {Production twitter} {deviantart gallery}
[PLAY VISUAL NOVEL]



Mom (off-screen)
(JaceC's Expression flash animated short) [was scouted!]
[WATCH ANIMATION]




Narrator (English version)
✨ (max3 kids HD's Animarsh original children's series) [was scouted!] ✨
{Official website}
[WATCH PROMO]
[WATCH EPISODE 17]
[WATCH SEASON 1+2]




Enigmatic Boy
(ProjectTrinity's "Can't Say Can't" video comic) [was scouted!]
[WATCH VIDEO]





Taki, Izuru
(NicoleM_Animefan's Mermaid Melody series compilation fandub) [was scouted!]
[Status: Lines sent for ep 2; awaiting script for ep 3]
[WATCH EPISODE 1] (VAA)





Amelia, Claire
(scotskunk's Neo Robia visual drama series) [unlisted character!]
{Production tumblr} {deviantArt group} {Youtube channel}
[Status: Lines sent for ep 3; awaiting script for ep 4]
[WATCH EPISODE 1 PART 2]
[WATCH EPISODE 1 PART 3]
[WATCH EPISODE 2]
[WATCH EPISODE 3 PART 1]
[WATCH EPISODE 3 PART 2]




Haylee
(CNSundeen's High-Seas Honey original semi-animated series)
{Production tumblr}
[Status: Lines sent for ep 1; awaiting script for ep 2]
[WATCH CAST VIDEO]






Dr. Miki Hokuto, Hana Matsuzaki, Extras/Walla
(Aoba's From Up on Poppy Hill fandub clips) [was scouted!]
[Status: Redoes sent; in production]
[WATCH CLIPS]




Linari
(ProjectTrinity's The Perjurer 3D animated film) [was scouted!]
[Status: Lines sent; in production]
[WATCH TRAILER]



Sasha
(McTricky's Attack on Titan fandub clip "Colossal Titan Appears!") [was scouted!]
[WATCH CLIP]




Skuld
(Fizzii's Heroine's Quest original point-and-click adventure RPG)
{Production website} {Facebook page}
[PLAY GAME @ IndieDB]
[PLAY GAME @ Steam]
[WATCH GAMEPLAY VIDEO]




Jasmin
(ProjectTrinity's Elves Are Racist video comic short) [from previous role]
[WATCH VIDEO]



Osaka
(Menchi's Azumanga Daioh! Christmas Special fandub) [was scouted!]
[WATCH VIDEO]



Tanya Wesley
✨ (COMIXSCAPIST's COMIXSCAPE comic-dub & mixtape) ✨
[Status: Lines sent; in production]
[WATCH EPISODE 1]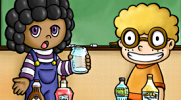 Khadijah & Johann
(dw-divastar's Bakermomium animation "Density") [from previous role]
[WATCH ANIMATION]




Swan Blackheart
(Gojira-Yuki's Devil Gene R original visual novel) [unlisted character!]
{Production twitter} {Production tumblr}
[Status: Lines sent for demo; awaiting further script]
[PLAY DEMO]



Rea Amano
(Stephanie W's Mirai Nikki fandub clip "Reisuke's Scissors") [was scouted!]
[WATCH CLIP]


Female Narrator
✨ (Venneta's How to Recover from Addiction animated infographic) ✨
[WATCH INFOGRAPHIC]



Captain Alicia Tremble
(WX_IVAN's Saratoga original 3D animated series)
{Production non-VAA thread} {Facebook page}
[Status: Lines sent for ep 8; in production]
[WATCH EPISODE 1]
[WATCH EPISODE 2]
[WATCH EPISODE 3]
[WATCH EPISODE 4]
[WATCH EPISODE 5]
[WATCH EPISODE 6]




Fluttershy
(FanatSors's Turnabout Storm: The Other Side spin-off fanseries) [was scouted!]
[Status: awaiting script for next ep]
[WATCH EPISODE 3]




Lucille, Walter's Mother





Extras: Villager, Shopkeeper, Magic Instructor, Innkeeper [extras were scouted]
(Mole-chan's DUÆL original visual novel)
{Production website} {Production tumblr} {Production twitter} {Production in-progress thread} {Production release thread}
[PLAY VISUAL NOVEL]
[WATCH GAMEPLAY VIDEO]



Sea Mother, Red-eyed Child, Mayor Lady, Fish-drying Woman
(Aoba's Shadow Hearts game fandub) [was scouted!]
{VAA project thread}
[WATCH EPISODE 2.1]
[WATCH EPISODE 2.2]
[WATCH EPISODE 2.3]
[WATCH EPISODE 4.1]
[WATCH EPISODE 4.2]




Sestra
✨ (Ron Widjaja's Faunia Rancher game trailer) ✨
{Facebook page}
[WATCH TRAILER]




Dr. Kureha
(Ryusuke's One Piece fandub clip "The Forbidden Rumble") [was scouted!]
[WATCH CLIP @ Youtube]




Jasmin
(ProjectTrinity's Al'asuiaga'ta: Welcome Back RMXP game) [from previous role]
[PLAY GAME]




Yuyu Kouenji
(mizura's Tsugi no Giseisha visual novel fandub) [was scouted!]
[Status: Remaining lines sent; in production]
[WATCH VIDEOS]





Agent Synn, Misaki
(Fried Rice's Fried Rice: the Movie)
{Production channel} {Production website}
[Status: Redoes sent; in production]
[WATCH CHAPTER 1]
[WATCH CHAPTER 3]




Roll
(kyutwo's Dream Team 2 fan animation) [was scouted!]
[WATCH VIDEO]


Dola
(ichigo_m's Studio Ghibli fandub clips) [was scouted!]
{Production blog}
[WATCH CLIP]




Tiger Sugatame
(Tomoyo Ichijouji's Star Driver fandub clips) [self-cast]
{Production blog}
[WATCH CLIPS]





Fluttershy, Rarity
(NeoArtimus's "Turnabout Storm" - A My Little Pony: Friendship is Magic & Phoenix Wright crossover fanseries)
[WATCH PART 1]
[WATCH PART 2]
[WATCH PART 3 - TWILIGHT]
[WATCH PART 3 - PHOENIX]
[WATCH PART 4]
[WATCH PART 5]




Elle
(mizura's Armen Noir clip fandub) [was scouted!]
[WATCH CLIP]




Carol Danvers
(rebelcheese's Endless Blue fan radioplay) [was scouted!]
[HEAR EPISODE 4]




Tifa
(Lucca's Final Fantasy 7: Robot Chicken Skit fandub) [was scouted!]
{Production blog}
[WATCH SKIT]



Na'naat
(Dociouspopstar's Dungeons and Dragons Campaign Recap)
{Campaign website}
[HEAR RECAP]




Lola
(Ryusuke's One Piece fandub clip "Bink's Sake") [was scouted!]
{Production blog}
[WATCH CLIP & HEAR SONG]

{Go to Page 2}



{ UNDERSTUDY ROLES AND CANCELED PRODUCTIONS }

{ ROLES IN PROJECTS PRESUMED CANCELED }

Return to VAA Profile